Bauerfeind ValguLoc Big Toe Brace
View product questions & answers
Bauerfeind ValguLoc Big Toe Brace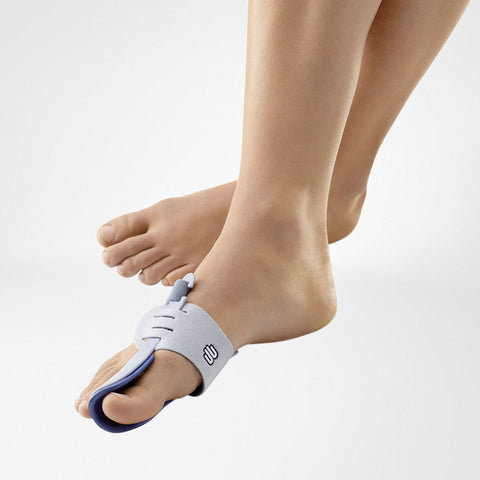 Free Shipping
Product Specialist
Lifetime Phone Support
Financing Options
Need Help?
Talk to one of our Experts!
The ValguLoc night-time postural splint corrects hallux valgus misalignment of the big toe. In nonsurgical therapy, the light corrective pressure keeps the big toe in its natural, almost straight position and stretches the sections of the joint capsule that have been shortened due to misalignment.This helps relieve symptoms, counteracts strong joint wear and helps to prevent resulting misalignment of the little toes.
Corrective pressure can be continuously adjusted using the Velcro fastening.  The Valguloc can be used to prevent the possible loss of correction due to scar formation. In addition the postural splint helps protect the recently operated big toe against light knocks while sleeping.  Its simple construction makes it easy to put on and take off. The inside of the half-cup is soft and comfortably padded and offers excellent wearing comfort. ValguLoc is worn without shoes while at rest, and is not suitable for walking.
FEATURES
Corrects hallux valgus big toe misalignments
Stretches shortened sections of the joint capsule
Relieves typical symptoms
Continuously adjustable corrective pressure
Protects during the night while you are sleepingfoot