Semi Electric Hospital Beds
Semi Electric Hospital Beds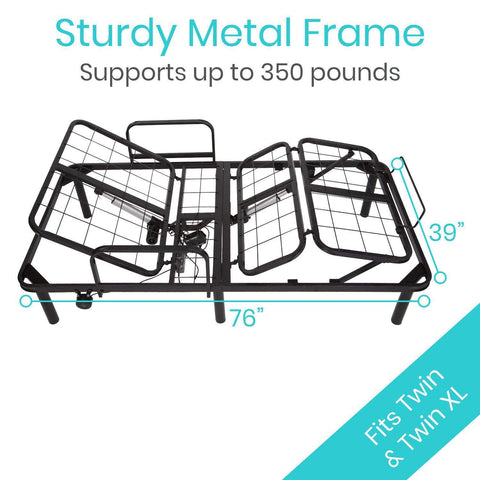 THE VIVE REST is an easily adjustable bed frame made for comfort and sleep im...
Semi Electric Hospital Beds
Semi-Electric hospital beds are
hospital beds
very similar to full electric hospital beds. The semi electric bed is ideal not just for a hospital setting but also for anyone who needs a hospital style bed either in the home or nursing home. The semi electric bed uses a motor which operates quietly and smoothly for the adjustment of the head and foot sections of the bed whereas the height of the bed is adjusted manually. The frame of the bed is constructed to provide superior strength and reduced weight. The spring deck of the bed is zinc coated to make it more durable and reduce corrosion. The hand control is easy to use and is capable of operating the head and foot sections simultaneously. The hand control of the bed is always positioned with in the reach of the patient.
CHOOSING A SEMI-ELECTRIC BED:
The best way to choose a suitable semi-electric hospital bed that is suitable for you or your loved one is to browse through the features of each manufacturer and brand to find the right bed for you. CSA Medical Supply carries Semi-Electric Hospital beds from the following manufacturers. 
Drive Medical:
Drive Medical is a leading producer of medical supplies which includes different models of semi-electric beds. Their semi-electric beds include models with channel frames and ultra-light features.
Invacare:
Invacare is another leading manufacturer of hospital supplies including semi-electric beds. If you are looking for semi-electric beds that are sturdy, durable at the same time economical, you need to take a look at Invacare's selection of semi-electric hospital beds.
SEMI-ELECTRIC HOSPITAL BED BUYING GUIDE:
There are several brands of semi-electric hospital beds, each unique in its own characteristics. However, in making the best choice, there are several factors that should influence the bed you choose. They are:
How many hours in a day will the user be in bed?

For how long would the bed be needed by the user?

Is the user at a risk of falling out of the bed when sleeping or resting?

What type of frame would provide the best support and stability for the user of the bed?

Semi-Electric beds are specialized for patients who are bed ridden and must spend a significant amount of time in bed. They can be used by hospitals/medical centers, Adult Care giving homes and private homes. Semi-Electric beds allow patients to adjust to different resting positions in order to make them comfortable and eliminate the incidence of bed sores as a result of a considerably long time in bed.
FEATURES AND BENEFITS OF A SEMI-ELECTRIC HOSPITAL BED:
1. The pendant control enables automated adjustment of the legs and upper body while sleeping on the bed.
2. There is a manually operated crank which adjusts the height of the bed frame in order to enable caregiver assistance.
3. The bed uses a low voltage DC Motor system that is faster and quieter than traditional motor systems.
4. The bed has an ergonomic anti-strain hand pendant making the control of the bed easy for the user.
5. The bed uses different types of casters to hold the bed in position so that the patient does not fall off the bed.
6. The bed has an emergency crank which enables manual operation of motor system in case of power outage or failure.
Are Semi Electric Hospital Beds Covered By Insurance
Yes, if you or your loved one are in need of a semi-electric hospital bed your insurance company will cover either the purchase or rental of the bed. Depending on your insurance there may be some restriction. CSA Medical Supply is able to bill insurance claims upon your behalf for semi-electric hospital beds. Be advised if you or your loved one are on Medicare we may not be able to provide you with a semi electric hospital bed if you are located in a competitive bid region. CSA Medical Supply does accept Florida Medicaid.