View 2 questions & 2 answers about Aspen QuikDraw RAP Back Brace
Aspen QuikDraw RAP Back Brace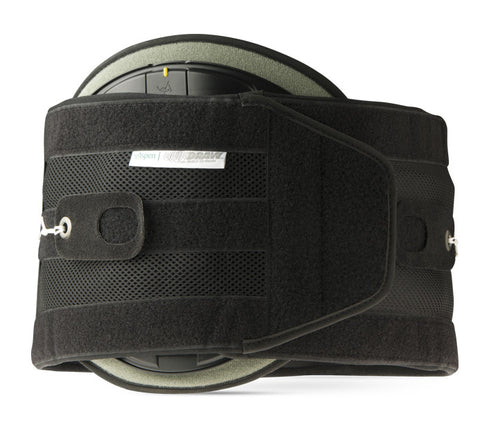 Free Shipping
Product Specialist
Lifetime Phone Support
Financing Options
Need Help?
Talk to one of our Experts!
The Aspen QuikDraw RAP Back Brace is a comfortable, effective and easy to use device for chronic back pain or minimally invasive surgery patients. Sized according to male or female pant sizes this back brace is a high quality product that incorporates two draw strings that easily control and adjust compression around the lumbar region.
This Aspen Medical product has two drawstrings that even patients with limited hand strength can use to get effective compression for immediate pain relief. The Aspen Quick Draw has a removable anterior panel that provides enhanced stability and pressure distribution for a wide range of patient needs and is perfect for individuals suffering with chronic low back pain requiring a higher degree of support than what typical lumbar corset-style braces can provide.
The Aspen QuikDraw brace can be worn over or under clothing and is made of breathable, washable material. The back brace is available in XS to XXL sizes, which can accommodate a range of waist circumferences from 21 to 57 inches.
Aspen QuickDraw Rap Features
Removable rigid anterior panel -RAP- enhances abdominal compression and lumbar support during all activities. 
Patented quick draw mechanical pulley system makes tightening a simple process with two easy handle drawstrings.
Made of breathable materials for greater comfort.
Can be worn under or over clothes.
Available in both white or black corset colors.
Hand washable; air dry recommended.
Available in six sizes - please see our sizing chart tab for sizing instructions
ATTENTION YOUR Back Brace MAY BE COVERED BY YOUR INSURANCE:
Recent US federal government legislation helps make Back Braces and Supports more accessible to patients. Most health insurance plans cover the purchase Back Braces. Each health care insurance plan determines the specific coverage and reimbursement for Back Braces. As a licensed Durable Medical Equipment Provider, and Home Medical Equipment Provider CSA Medical is able to bill your medical insurance for Back Braces and Supports. Please call for more information to see if your Back Brace is covered. 
Aspen Horizon 637 Back Support may be used to treat:
Chronic or acute low back pain
Lumbar Spinal Laminectomy
Multiple level disc herniations
Degenerative changes (arthritis)
Compression fracture
Sciatica
Post operative support
Post laminectomy syndrome
Decompressive procedures
Degenerative disc disease
Bulging or herniated disc
Fracture management
Spondylolisthesis
IDET procedure
Spinal stenosis
Sprain / strain
Facet syndrome
SI dysfunction
Radiculopathy
Spondylosis
Severe DJD
Sacrolitis
Lumbar Spinal Fusion
| Size | Waist Size | Men's Pant Size | Women's Pant Size |
| --- | --- | --- | --- |
| S | 26-32 inches | 26-30 inches | 2-4 |
| M | 29-32 inches | 30-34 inches | 6-10 |
| L | 33-35 inches | 34-38 inches | 12-16 |
| XL | 36-38 inches | 38-44 inches | 18-22 |
| XXL | 39-41 inches | 44 to 54 inches | 24-34 |
Measurements Around The Waist