Vive Health 3 Wheel Rollator
View product questions & answers
Vive Health 3 Wheel Rollator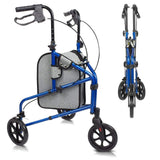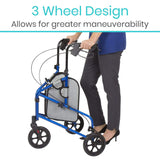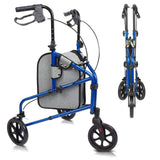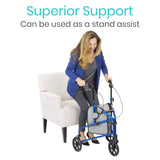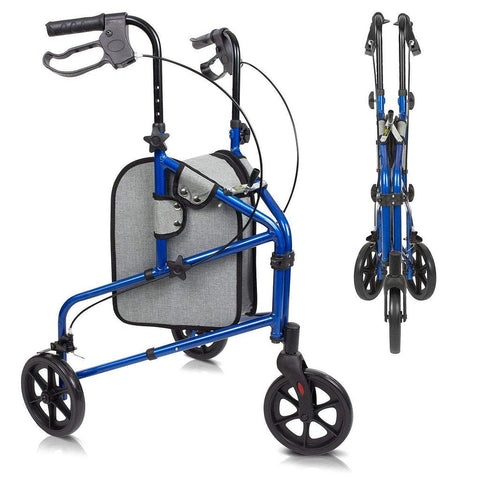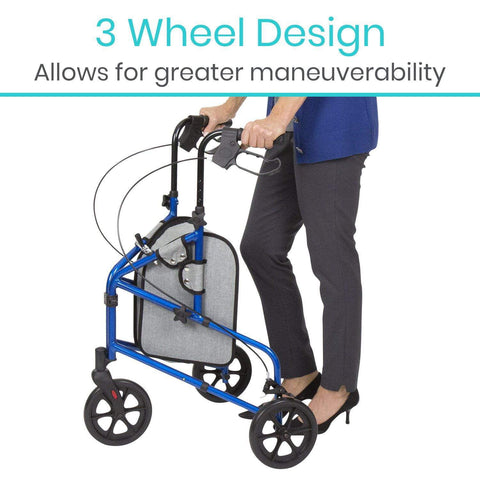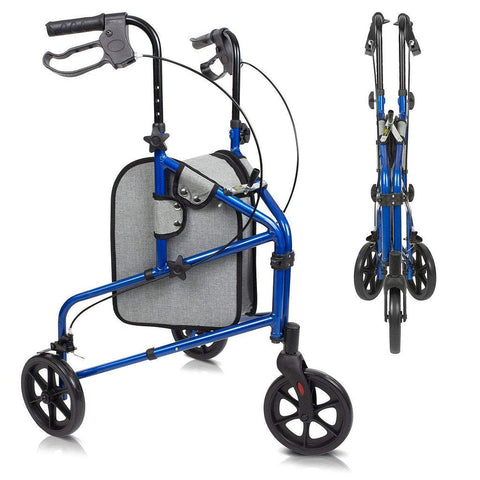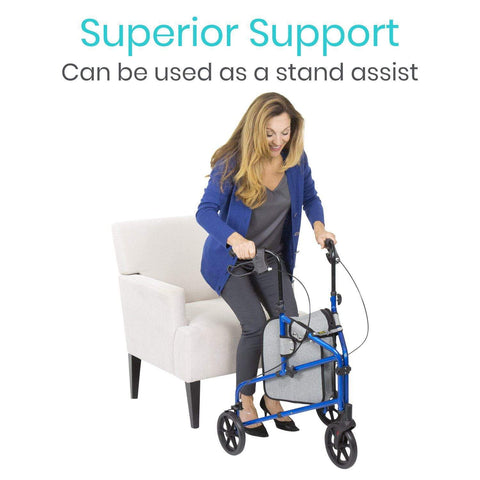 Free Shipping
Product Specialist
Lifetime Phone Support
Financing Options
Need Help?
Talk to one of our Experts!
Features
INDEPENDENT MOBILITY

Three-wheel design allows you to easily navigate in crowded venues and through narrow spaces with stabilizing support

ADJUSTABLE HANDLE HEIGHT

Push pins allow the handle height to be easily customized for a comfortable fit for any individual

COMPACT FOLDABLE DESIGN

Conveniently folds up for compact storage and easy portability in the trunk or backseat of most standard size cars

SECURE HAND BRAKES

Safely maneuver inclines and tight corners with the ergonomic hand brakes that also lock the wheels in place when needed for added stability and security

LIGHTWEIGHT DURABLE FRAME

Corrosion-resistant, the lightweight aluminum frame safely supports up to 250 pounds

CONVENIENT STORAGE BAG

Includes a removable rollator bag to safely store a purse or wallet, electronic devices, medications and other essential items
FAQ
Will the tri-rollator fit a person who is only 5 feet tall?
Yes! The tri-rollator handles are adjustable to comfortably fit most individuals.
Does the three-wheel walker roll easily through the grass?
Yes, the three-wheel rollator includes large, all-terrain wheels to safely navigate most indoor and out surfaces, including grass.
Will the tri-rollator fit in the backseat of my car?
Yes! The tri-rollator is compact, easily folding to fit in the backseat or trunk of standard size vehicles.
Does this tri-rollator include a seat?
The tri-rollator does not include a seating area. For a seated option, the Vive Mobility folding rollator includes a padded seating area with a comfortable mesh backrest.
How much does the three-wheel rollator weigh?
The tri-rollator is exceptionally lightweight, weighing in at 11 pounds.
What are the dimensions of the rollator when folded?
The tri-rollator measures 35" by 26" by 9" when folded for easy portability.
Does the rollator include the storage bag?
Yes! The gray accessory bag is included with the tri-rollator.
Will the compact tri-rollator fit through a narrow doorway?
Yes, the tri-rollator is designed to fit through narrow hallways, doorways and in crowded areas.
What is the maximum weight the rollator will support?
The tri-rollator will support up to 250 pounds, however, the tri-rollator is designed to aid in mobility and not suitable for complete weight-bearing movement.
Will the hand brakes be easy to use for someone with arthritis?
Yes, the hand brakes are designed for easy use.
Specification
Uses:
For providing added stability when walking
Dimensions:
Base width when open: 21"
Base width when folded: 9"
Height: 35"
Length: 26"
Wheels: 8"
Weight: 11 pounds
Color:
Black
Blue
Gray accessory bag
How to Assemble:
Open the tri-rollator by pulling both sides of the frame out
Insert the handlebars on the side with the corresponding brake cable attached. Do not cross the brake cable lines
Tighten the locking knobs on both sides of the rollator
Adjust the height of the handlebars with the locking push pins
Care Instructions:
Wipe down the tri-rollator frame with a damp cloth
Check the brake cables, retightening the adjuster screw as needed
What's Included:
Vive Mobility Tri-Rollator
Accessory bag
Lifetime guarantee
UPC: 818323027938 (Blue); 818323027921 (Black)
Product Number: MOB1026BLU (Blue); MOB1026BLK (Black)
Shipping Weight: 13.65 pounds
User Manual: Three-Wheel Rollator