TRÚ comfort Deluxe Double Electric Breast Pump
View product questions & answers
TRÚ comfort Deluxe Double Electric Breast Pump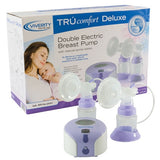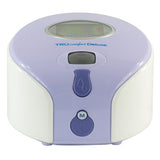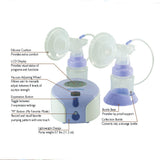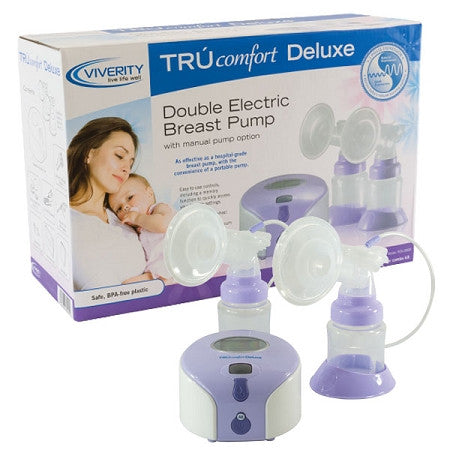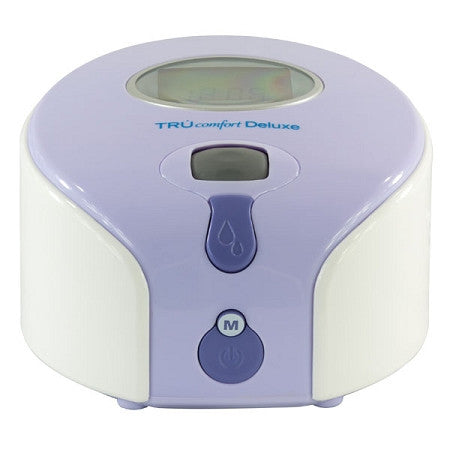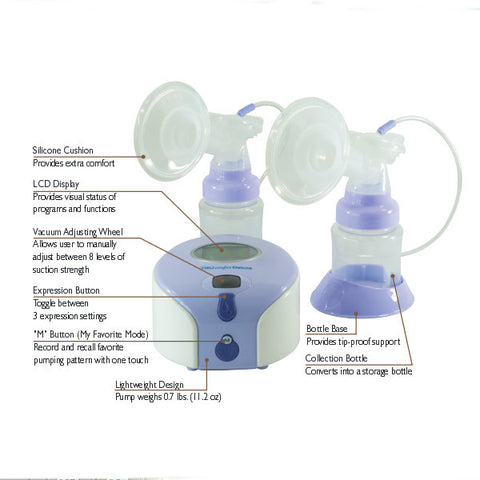 Free Shipping
Product Specialist
Lifetime Phone Support
Financing Options
Need Help?
Talk to one of our Experts!
The TRÚ comfort Deluxe is a double electric breast pump which combines the effectiveness of a hospital-grade pump with the convenience of a portable pump. It comes with two collection bottles for expressing both breasts simultaneously. It uses a closed-system diaphragm which prevents milk from coming in contact with the tubing or motor. This lightweight quiet pump weighs less than one pound, yet it is durable and dependable enough for daily pumping.
The TRU comfort Deluxe features three preset modes and eight vacuum suction levels. The vacuum suction strength can be adjusted independent of the expression pattern cycle. The comfort Deluxe features three expression patterns Reflex, Swift, and Natural Expression all expression are designed to mimic the way a baby naturally feeds.  Suction strength is easily adjusted by turning the vacuum adjusting wheel. All changes are gradual to keep the mother comfortable while pumping.
The TRÚ comfort Deluxe is built with the innovative "M" Button (My Favorite Mode) which can be programmed to remember a mother's favorite pumping patterns and recall it for future pumping sessions. The pump also features an easy-to-read LCD display, user-friendly controls, a clock with an alarm to remind mothers when to begin their next expressing session.
Product Features:
Double electric pump with three preset speed patterns and eight levels of vacuum strength 
Closed system diaphragm prevents milk back-flow from entering tubing or electric motor
Expression button allows the user to toggle between three milk expression patterns: reflex express, swift express and natural expression 
"M" Button feature – record and recall favorite pumping patterns with one touch
Clock with alarm function alerts mother when to begin her next pumping session
LCD Display provides visual status of programs and functions
Flexible power options – electric-powered, battery operated (4-AA batteries sold separately) or converted into a manual breast pump (Manual Pump Diaphragm Kit included)
Includes two collection bottles that convert from a collection to a feeding bottle within seconds
Comes complete with two expression collection combo kits, two bottle adapter kits, double vacuum tube with adapter, manual pump diaphragm kit, 12V AC/DC adapter, carrying bag and user manual
BPA Free
Vacuum – Reflex/Swift Expression: -85 ~ -185 mmHg
Vacuum – Natural Expression: -110 ~ -250 mmHg
1 year warranty on pump and 120 days on all other components
May be covered by your insurance
Attention Your Breast Pump May Be Covered By Your Insurance:
Recent US federal government legislation helps make breastfeeding more accessible to mothers and babies. Under the Patient Protection and Affordable Care Act, most health insurance plans are required to provide breastfeeding equipment and counseling for pregnant and nursing women. The Act also eliminates cost sharing for these services under many plans. Each health care insurance plan determines their specific lactation support and services, breast pumps and supplies, and method of delivery. As a licensed Durable Medical Equipment Provider, and Home Medical Equipment Provider CSA Medical is able to bill your medical insurance for breast pumps. Please call for more information to see if your breast pump is covered.