PURease Manual Breast Pump
View product questions & answers
PURease Manual Breast Pump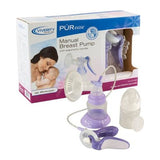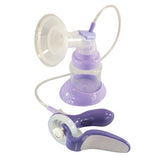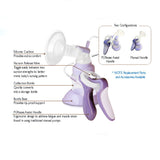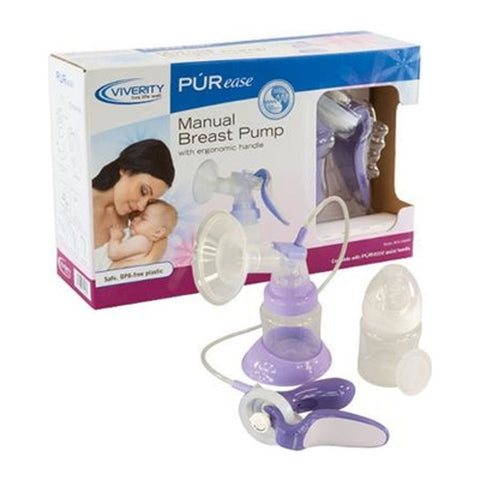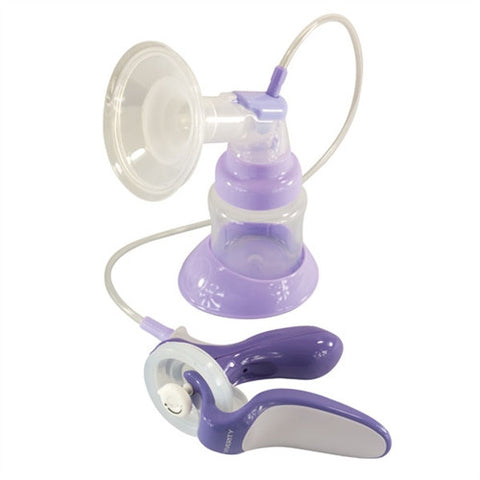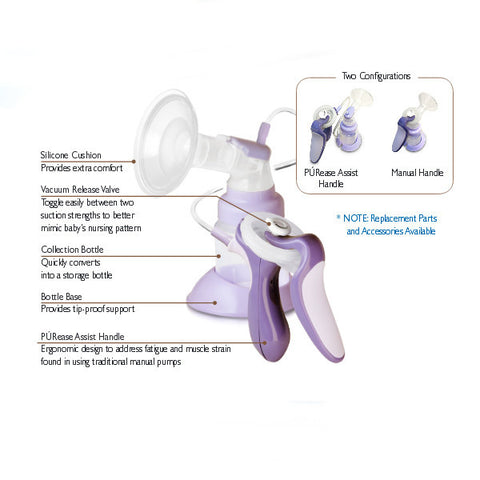 Free Shipping
Product Specialist
Lifetime Phone Support
Financing Options
Need Help?
Talk to one of our Experts!
The PÚR ease is a small, adjustable, and portable manual pump. It can be assembled as a traditional manual pump by snapping the manual handle directly onto the bottle, or the manual handle can be snapped onto the PÚR ease Assist handle assembly, giving mothers greater freedom of movement and less hand and shoulder strain while pumping. The innovative PÚR ease Assist Handle is separate from the pump's expression collection combo kit. Its ergonomic design makes it easy to hold and to operate. It also fits well in smaller hands. This special feature alleviates the muscle fatigue that is usually associated with traditional manual pump operation. It also allows a helper to assist if needed.
The PÚR ease Manual Breast Pump provides two expression options and adjustable vacuum strength to customize a mother's milk expression to mimic their baby's nursing pattern for maximum production. The vacuum adjusting knob allows quick and easy adjustment of the suction strength, and the release of the vacuum pressure. Fits perfectly into the convenient carrying tote (included) for a complete portable solution.
Product:
The wide ergonomic handle reduces muscle fatigue and strain and is a better fit for mothers with smaller hands or arm injuries 
Mothers can use their pump one-handed or two- handed with the convertible PÚR ease Assist Handle, and it can provide a unique bonding opportunity for an assisting partner
Vacuum release valve regulates the pump's vacuum pressure preventing over-vacuum, swelling of the nipples and easier separation from the pump
Two phase expression technology allows the mother to toggle easily between swift and reflex expression settings
Silicone cushion provides maximum comfort for engorged or swollen breasts
Includes collection bottle that converts from a collection to a feeding bottle within seconds 
Comes complete with expression collection combo kit, PÚR ease assist handle, one extra 5-oz. bottle, two bottle adapter kits, spare parts (one valve and o-ring), carrying tote and user manual 
BPA Free
Vacuum: -150 ~ -250 mmHg
30-day warrant