Vive Mobility All Terrain Knee Walker
View product questions & answers
Vive Mobility All Terrain Knee Walker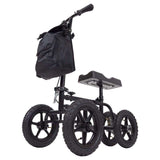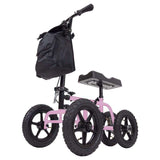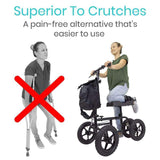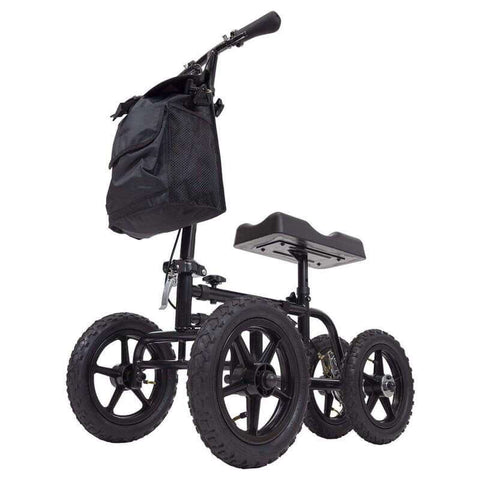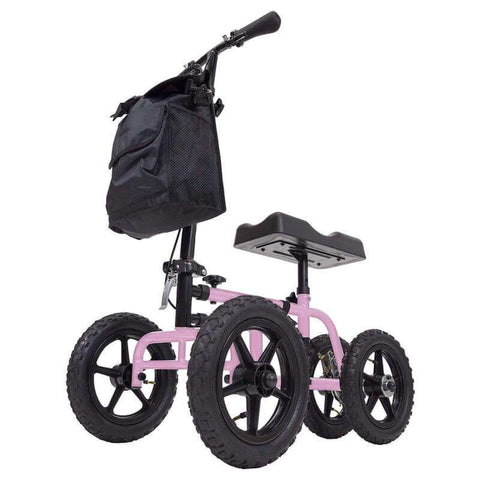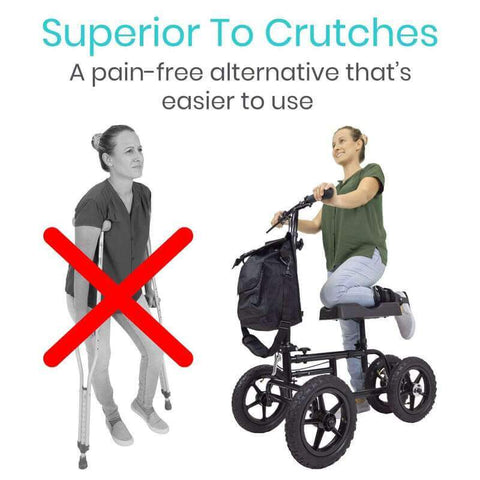 Free Shipping
Product Specialist
Lifetime Phone Support
Financing Options
Need Help?
Talk to one of our Experts!
Vive Mobility All Terrain Knee Walker is a great alternative to crutches while recovering from a foot, leg, or knee injury or surgery. It provides safe and stable mobility. Four 12" pneumatic tires allow you to easily navigate any surface indoor and outdoor, including loose surfaces such as gravel or grass. It features dual rear brakes for exceptional stability and control. It includes a removable storage bag for securely carrying essential items in the large interior compartment, the small exterior pouch, or the two mesh pockets.
Vive All Terrain Knee Walker Features
Users can easily adjust the height of both the handlebars and the knee platform for a comfortable, customized fit
The knee platform is used to contoured safely cradle the leg and eliminate painful pressure points, chafing, and irritation
Safely supports up to 300 pounds and easily folds for compact storage and travel
How to use Vive Walker?
Operating Instructions of Vive Walker
Center injured leg on the knee pad, covering the entire length of the padding
Standing as straight as possible, propel yourself forward using uninjured leg
Engage the security lock before attempting to transfer from the knee walker
Braking Adjustment of Vive Rollator
To lock the hand brake, pull the brake lever on the handlebar towards you
To lock the brake system, pull the brake lever towards you and push down on the locking pin on top of the lever, the pin will lock the wheels in place
How to Adjust the Platform Height?
Loosen locking lever under the knee pad and remove the locking pin
Adjust knee pad to desired height and replace locking pin to secure it in place
How to Adjust the Handlebar Height?
Loosen adjustment screw on the handle by turning it counterclockwise until it can be removed
Adjust the handlebar grip to the desired height
Tighten the adjustment screw
How to fold the lock of Vive Scooter?
Pull up on the twist lock lever to unsecure the folding joint
Twist the level counter-clockwise a couple of times to loosen the locking mechanism
Fold down the twist lock lever and slide it to the left to disengage the lock holding the steering column upright
Push the steering column back into the folded position
Remove the knee platform if necessary for more compact storage and portability

Features

KEEP YOUR FREEDOM

Steerable scooter allows you to keep your freedom and stay mobile during recovery

FITS IN YOUR TRUNK

Lightweight and foldable for easy storage

DUAL BRAKES

Rear braking system provides superior control and safety

COMFORTABLE KNEE CUSHION

Contoured foam cushion is specifically designed to fit the shape of your knee

SUPPORTS UP TO 300 LBS

Matte black steel frame easily supports up to 300 lbs

ADJUSTABLE TO SUIT MOST HEIGHTS

Handles and knee cushion are easily adjusted to suit heights from 5'3" to 6' 8"

8" ALL TERRAIN WHEELS

For a smooth ride over all surfaces and terrains

FREE STORAGE BAG

Store your valuables in privacy, plus bag is removable so you can take it wherever you need




FAQ

What is the weight capacity?

300 lbs.

Does the knee walker come with a bag?

Yes, the removable bag comes free with your purchase.

Why is the knee scooter causing my knee pain?

When using for extended periods try our knee pad cover for add extra padding and comfort.

Is this an all terrain knee walker?

Yes, the 8 inch wheels provide a smooth ride on indoor and outdoor surfaces.

Do you offer any knee walker accessories?

Yes, every walker comes with a carry bag. Consider our pad cover if you need extra padding.

How comfortable is the knee pad?

The foam knee cushion is ergonomically designed to contour to the leg. It allows weight to be evenly distributed across the knee platform and supplies better air circulation for a comfortable user experience.

How heavy is the knee scooter?

25 lbs.

How do I get replacement parts?

Call us at Csa Medical Supply or by email. We would be happy to provide you any parts you need.




Knee Pad Height: Adjustable between 18"-23"
Handle Bar Height: Adjustable in 1" increments ranging from 33" to 41"
Knee Pad Dimensions: 14" x 7" (at widest part)
Front Wheels + Frame: 16" across (widest point of scooter)
Four 8-inch polyurethane wheels provide an exceptionally stable base for easy maneuverability both indoors and outdoors.
Two fold points and the removable platform allows the scooter to be easily transported.
Weight limit 300 LBS

Assembly:

Minimal assembly required
All tools required for assembly included
For more detail reference our manual

Operating Instructions:

Center injured leg on the knee pad, covering the entire length of the padding
Standing as straight as possible, propel yourself forward using uninjured leg
Engage the security lock before attempting to transfer from the knee walker

Braking:

Walker is equipped with a dual wheel braking system.
To adjust the brakes, turn cable adjuster located on the hand brake.




Adjusting Pad Height:

Loosen locking lever under the knee pad
Remove locking pin
Adjust knee pad to desired height and replace locking pin to secure it in place

Adjusting Handle Height:

Loosen adjustment screw on the handle by turning it counterclockwise until it can be removed
Adjust handle bar grip to the desired height

*The knee walker is designed with both height adjustable knee pad and handle height to accommodate users 5'3" to 6'5"




Product is designed for people recovering from:

Foot surgery
Broken leg, ankle or foot
Sprained leg, ankle or foot
Ulcers of the foot

What's Included:

Knee walker
Storage bag
1 Year guarantee

UPC: 683405234166 (Black); 818323024920 (Pink)

Product Number: MOB1007BLK (Black); MOB1007PNK (Pink)

Shipping Weight: 25.5 pounds

User Manual: Knee Walker