MK M24 SLD G Sealed Gel Wheelchair Battery (Pair)
View product questions & answers
MK M24 SLD G Sealed Gel Wheelchair Battery (Pair)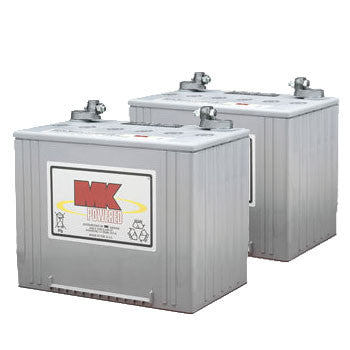 Free Shipping
Product Specialist
Lifetime Phone Support
Financing Options
Need Help?
Talk to one of our Experts!
When it's time to get replacement batteries for your power wheelchair or scooter there's only one battery to chose and that's an MK Battery. When you purchase an MK battery for your power wheelchair or scooter you can rest easy knowing you have the most reliable battery in the business. The M24 SLD G battery is no different. Designed with MK premium gel there's a reason leading wheelchair and scooter manufactures choose it over lower quality batteries. When it comes to performance and quality, MK Gel is the standard.
Why Get The MK M24 SLD G:
Deep Cycle

Premium sealed batteries capable of up to 500 cycles that are fully laboratory tested.

Gelled/Suspended Electrolyte 

No liquid of any kind; battery is completely sealed. Safe in any position. 

Maintenance Free

Water is never added; low liability 

Travel & Ship Easily

MK batteries are F.A.A, IATA, and UPS approved

Last longer than comparable wet lead/acid and marine batteries.
Battery Features:
12 volts and 74 AMP hours
Sold in Pairs
Total weight 104 lbs.
Each Battery Measures 6.56"W x 10.2"L x 9.24"H
Safe for travel on planes
Covered by Insuramce
M24 SLD G Sealed Gel Battery is compatible with the following Wheelchairs/Scooters:
Braun T1100/T1200F (Series 1-3) (2)
Chauffer Mobility Viva Power 645 (2)
Drive Medical Gladiator (2)
Electric Mobility Rover, Sparky, Squire (2)
Everest & Jennings Lancer 2000, Lancer Base, Solaire, Solaire Base, Lancer (2)
Evermed ECW, EBW (2)
Hoveround Teknique HD, XHD (2)
Invacare 3G Storm Arrow, 3G Storm Ranger X, Storm Arrow FWD, 3G Ranger X RWD, TDX-3, TDX-4, TDX-5, 3G Storm Torque SP, 3G Storm Torque 3, TDX SR (2)
Leisure Lift/Pace Saver/Burke Mobility Scout Midi-Drive (RF4) (2)
Medline Strider Maxi (2)
Merits Health Pioneer 9 (S331), Pioneer 10 (S341), Big Boy Regal P710 & 720 (2)
Movingpeople.net/Fortress Scooters Winner 3 & 4 Wheel, Champion (2)
Orthofab/Lifestyles 655, 760, 760V, 760N, Spirit, Victory, 720, 770 (2)
Pride Mobility Jazzy (1100, 1104, 1120-2000, 1170XL, 1400, 1420, 1470) w/o Power Seating, Blast (650, 850, HD), PHC 1, PHC 10, Jet 1 w/Active Trac, Quantum 6000 & 6000XL, 6000Z (group 4), R4000 (2)
Shoprider Mobility HD (888WHD), 6Runner 14 (888WNLL, 888WNLLHD), Sprinter XL3 Deluxe, Flagship, Sprinter Jumbo XL, Sprinter XL4 & XL3 (2)
Sunrise Medical Quickie P222, P300 (All), P200, P210, P320, S626, G424, Aspire F10/F11, Freestyle F11, Rhythm, Groove, P220, S646, S646SE, P222SE (2)
Theradyne Rover (2)
Tuffcare Challenger Extra Wide (2)
Wheelchairs of Kansas Prairie Cruiser (2)
Wheelcare Sportster Vehicle (2)