McKesson Hydrocellular Foam Dressing With Silicone Adhesive
View product questions & answers
McKesson Hydrocellular Foam Dressing With Silicone Adhesive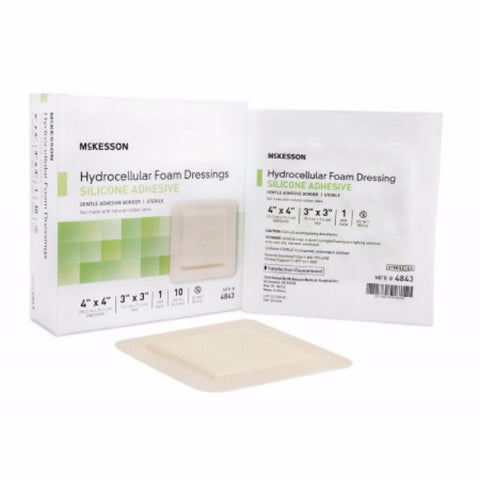 Free Shipping
Product Specialist
Lifetime Phone Support
Financing Options
Need Help?
Talk to one of our Experts!
Silicone Adhesive Foam Dressings: Highly conformable primary or secondary dressing for wounds with moderate exudate. Perforated, soft silicone gel adhesive provides gentle, but firm, adhesion and minimizes pain and trauma to the wound and skin upon removal. Dressing may be lifted and re-positioned without losing its adherent properties. Breathable, yet moisture- and bacteria-resistant outer film layer seals the wound margins. Absorbent inner hydrocellular foam pad maintains a moist wound environment to help promote healing. Excellent dressing choice when fragile skin is a concern.
Indications For Use:
Wide range of acute and chronic wounds like venous leg ulcers, pressure ulcers, diabetic ulcers and traumatic wounds.
Should Not Be Used By:
Patients with a known hypersensitivity to the product itself or its components.
Change Frequency:
Change dressing as directed by a healthcare professional.
Product Features:
Highly conformable and remains intact on skin.
Perforated silicone gel adhesive provides gentle but firm adhesion.
Soft silicone minimizes pain to patients and trauma to wounds upon removal.
Affixes securely to dry, intact skin; seals the wound margins to help prevent exudate from leaking on surrounding tissue, minimizing risk of maceration.
Breathable, yet moisture and bacteria resistant outer film layer.
Absorbent inner hydrocellular foam pad.
Dressing may be lifted and repositioned without losing its adherent properties.
Maintains a moist wound environment to help promote better healing.
Sterile
Single Use
Not Made With Natural Rubber Latex.
Available in 2" x 2", 3" x 3", 4" x 4"
Packaged: 10 Per Box, 20 Boxes Per Case
HCPCS Code A6209