KNEEROVER QUAD JR - ALL TERRAIN KNEE WALKER IN METALLIC BLUE
View product questions & answers
KNEEROVER QUAD JR - ALL TERRAIN KNEE WALKER IN METALLIC BLUE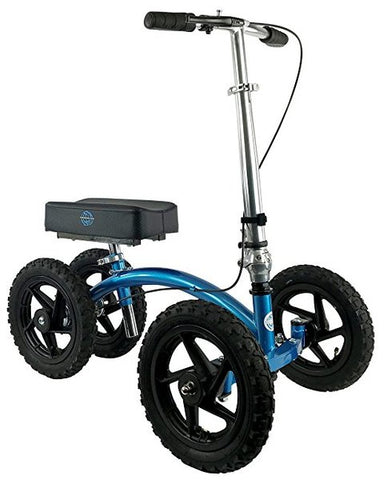 Free Shipping
Product Specialist
Lifetime Phone Support
Financing Options
Need Help?
Talk to one of our Experts!
PRODUCT DESCRIPTION
The Knee Rover QUAD Jr. is the Next Generation knee walker, providing the ultimate in comfort, stability and all terrain freedom. Equipped with an industry first - FOUR 9 inch air filled tires, the QUAD Jr is perfect for navigating any terrain with ease.

Ideal for small adults and kids recovering from injury or surgery to the foot, ankle or lower leg as well as below the knee amputees. The Knee Rover QUAD Jr. is an excellent alternative to crutches and offers the most versatility among knee walkers.

Maximum stability and control when maneuvering - these steerable knee walkers offer an advanced automotive style tie-rod steering mechanism and a proven drum braking system.

Fully adjustable knee platform and handle bars with premium easy folding mechanism for simple transport and storage of rolling knee walker.

Lightweight yet heavy duty frame offers unprecedented strength and stability for a knee scooter. All Terrain Knee Rover knee walker offers a 250 lb. weight capacity and is recommended for individuals with heights 3'9" - 5'6".                 
ALL NEW KNEEROVER QUAD Jr. - ALL TERRAIN KNEE WALKER FOR KIDS AND SMALL ADULTS The ULTIMATE All Terrain Knee Walker from the # 1 Knee Walker Brand The NEW Knee Rover QUAD Jr. is designed for small adults and children with heights ranging from: 3'9" to 5'6". Experience the ultimate freedom and performance with the NEW Knee Rover QUAD Jr. knee scooter - the first All Terrain knee walker with four 9 inch Pneumatic Wheels for maximum comfort and stability. The revolutionary Knee Rover QUAD Jr. Knee Walker is the most versatile and advanced knee walker in the industry - establishing a new level of durability and freedom of mobility for individuals recovering from a broken foot, broken ankle, broken leg, foot surgery, ankle surgery or other lower leg injuries or medical conditions like ulcers. These indoor - outdoor All Terrain kneeling walkers are an excellent crutch alternative and feature 9" diameter off-road pneumatic tires designed to easily traverse grass, sidewalks, gravel and dirt with incredible ease and agility. These steerable knee walkers offer an advanced automotive style tie-rod steering mechanism and a proven rear drum brake for superior stability and control. Compatible with both the right and left legs, the Knee Rover offers a 3" thick contoured knee platform and ergonomic rubber hand grips for complete comfort. Whether you are at home, at work, on the trail, or on the town, the Knee Rover QUAD Jr. scooter will keep you on the move, safely navigating everyday life with ease and adding a little fun along the way.
SPECIFICATIONS:
Color: Metallic Blue
Product Weight: 23.2 lbs.
Weight Capacity: 250 lbs.
Recommended Patient Height Range: 3'9" to 5'6"
Overall Length: 28"
Handlebar Height Range: 26.25" to 34"
Overall Height with handlebar folded and seat removed: 14.5"
Knee Support Height Range: 14" - 20"
Knee pad: 7" wide x 12.5" length Front Axle Width: 20"
Rear Drum Brake