Arthritis Gloves By Vive Health
View product questions & answers
Arthritis Gloves By Vive Health
Type: Unknown Type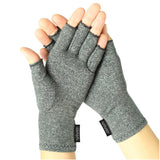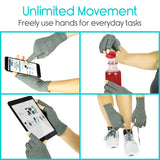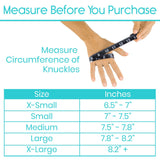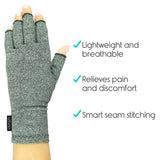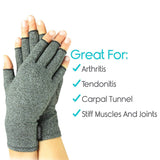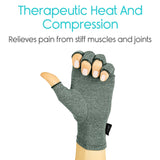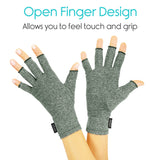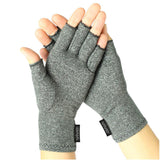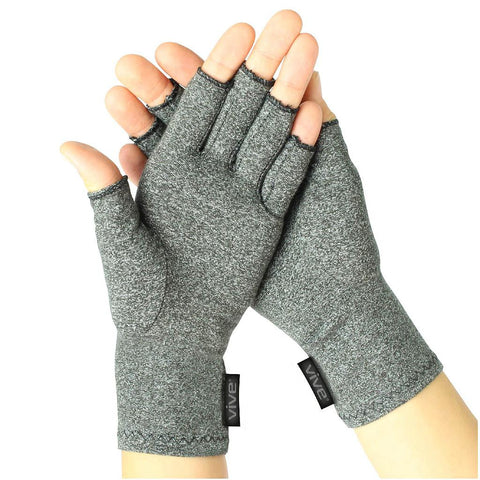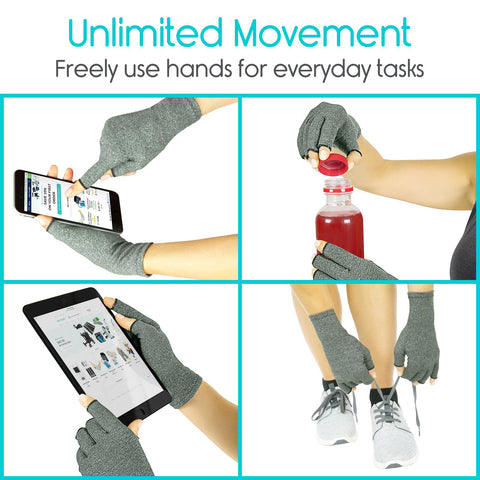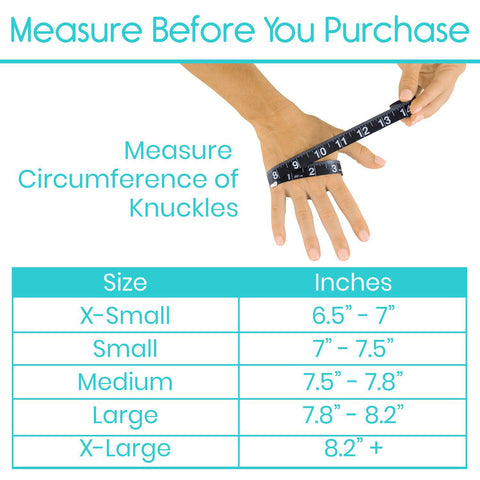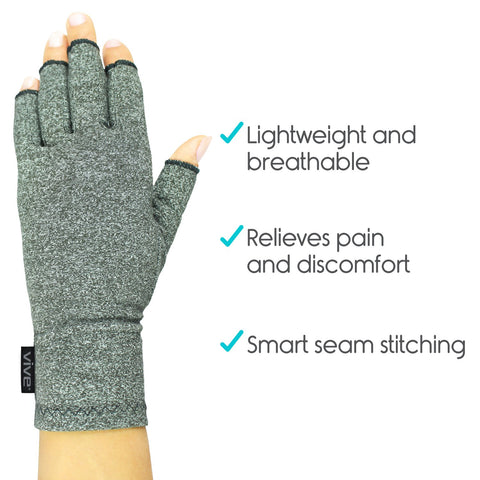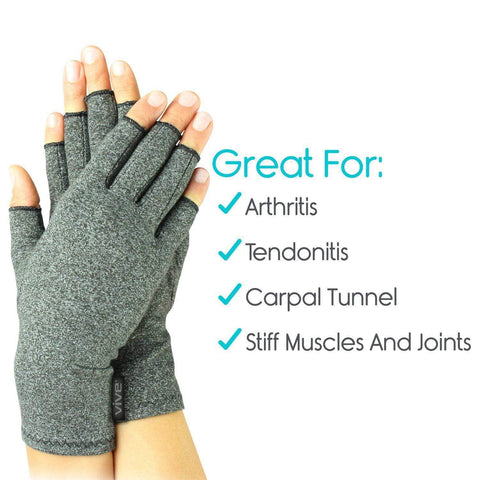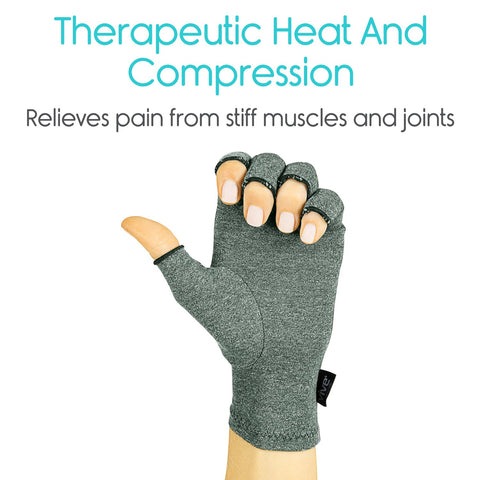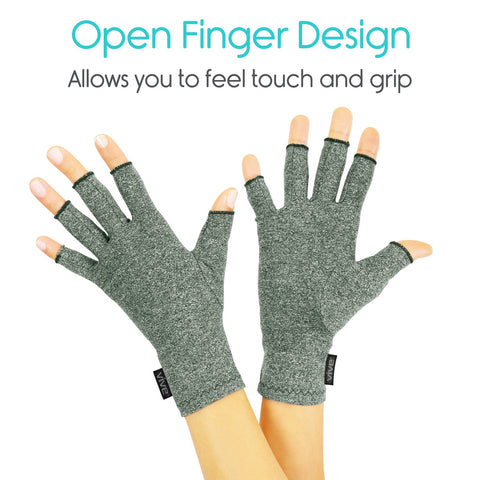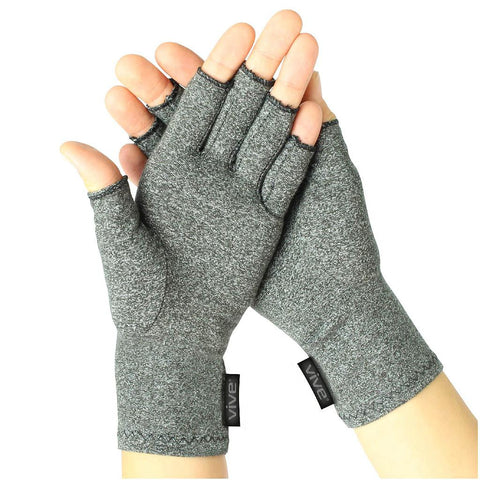 Free Shipping
Product Specialist
Lifetime Phone Support
Financing Options
Need Help?
Talk to one of our Experts!
Overview
Soothing sore, aching hands, fingers and wrists, the form-fitting Vive compression gloves provide gentle compression and therapeutic heat to relieve stiffness, inflammation and pain due to arthritis, repetitive motion injury and more. The open finger design allows for a full range of motion to easily complete everyday tasks such as driving, typing, using mobile devices, gardening and exercise. Soft and flexible, the arthritis gloves feature smart seam stitching to minimize irritation and are made with a cotton-spandex blend that is lightweight and breathable for all-day comfort.
FEATURES
Soothing Compression Therapy
Embracing the natural shape of each hand, the Vive arthritis gloves are form-fitting, providing therapeutic compression to relieve pain, stiffness and inflammation. The soft compression gloves soothe sore, aching tendons, muscles and joints to effectively relieve arthritis pain by reducing stress on pressure points in the fingers, hands and wrists.
Striking the perfect balance between optimal compression support and mobility, the arthritis compression gloves feature an open finger design. The open finger design allows wearers to easily perform everyday tasks, including using electronic devices, typing, cooking, driving and gardening.   
Constructed with a lightweight, cotton-spandex blend, the fingerless arthritis gloves are breathable for all-day comfort. The blend is also temperature regulating, retaining therapeutic heat to soothe aching joints without feeling hot or stuffy.
Updated in 2019 for exceptional durability, the Vive compression gloves feature new smart seam stitching to minimize irritation and pressure points for greater comfort.
60 day guarantee so you can purchase now with confidence.
GENERAL SPECIFICATIONS
Whats Included

Arthritis compression gloves (one pair)
Vive 60-day warranty
PRODUCT SPECIFICATIONS
Relieves pain, stiffness and inflammation in the wrists, hands and finger
Great for computer use, driving, gardening and more
Therapeutic compression support for arthritis and carpal tunnel pain
Flexible fit gloves for women and men
Open fingertip design for complete mobility
Minimal seam stitching for greater comfort
Lightweight, breathable blend for all day wear
Available in three sizes: small, medium and large
Materials:
Latex-free, cotton-spandex blend
Care Instructions:
Hand wash cold
Air dry
Sizing (Measure Width at Knuckles):
Small: Up to 3.125" (7.9 cm)
Medium: Up to 3.5" (8.9 cm)
Large: Up to 4" (10.1 cm)
FAQs
What are the the materials?
Our gloves are made from a cotton and spandex blend. (88% cotton, 12" spandex)
How are the gloves sized?
For exact sizing please reference the images above, or simply click here for the image link: https://cdn.shopify.com/s/files/1/0763/4541/products/vive_arthritis_gloves_4.jpg?v=1448299877
UPC

683405233817: small
683405233909: medium
683405234067: large
810041981417: X-Small
8183230281264: X-Large


Product Number
SUP1019S
SUP1019M
SUP1019L

Shipping Weight
.3 ounces
UPC:
X-Small: 810041981417
Small: 683405233817
Medium: 683405233909
Large: 683405234067
X-Large: 8183230281264