Knee Pillow By Vive Health
View product questions & answers
Knee Pillow By Vive Health
Type: Unknown Type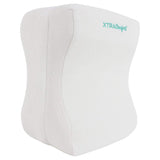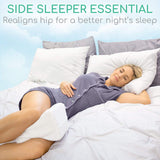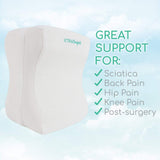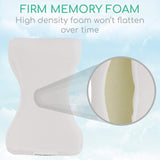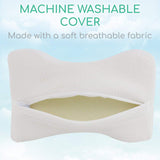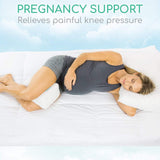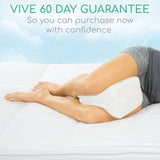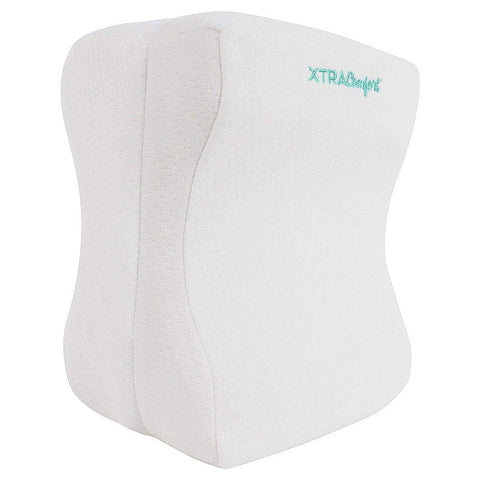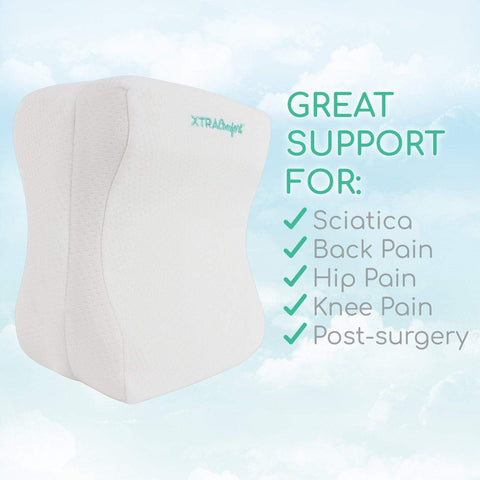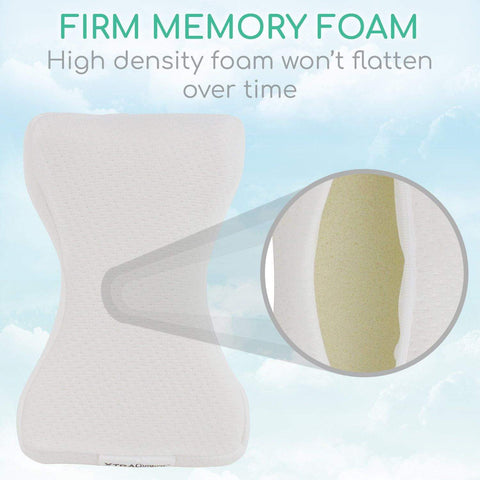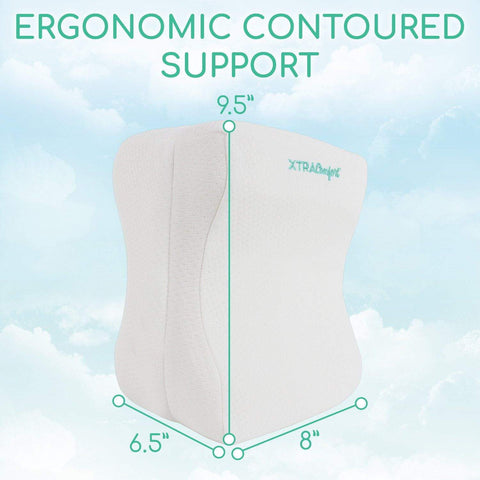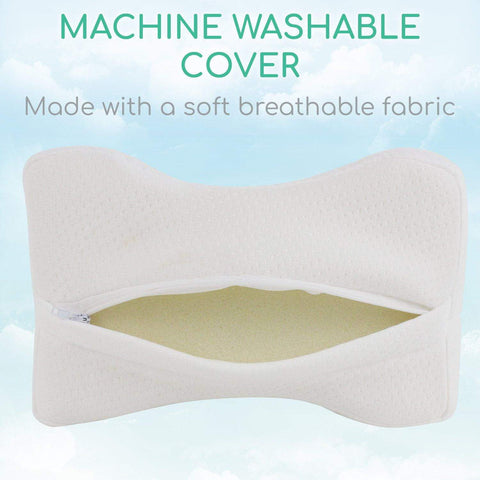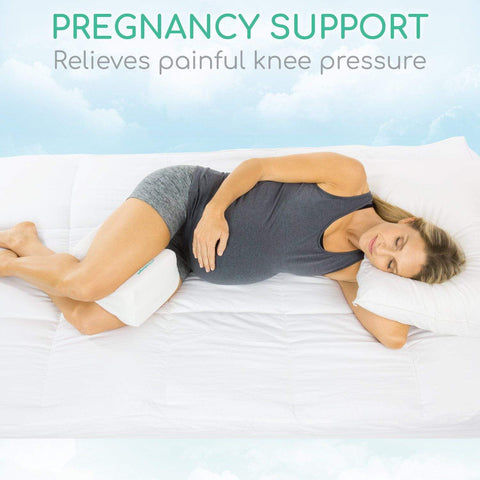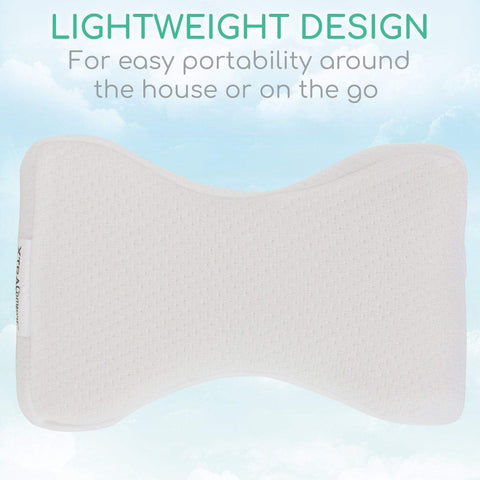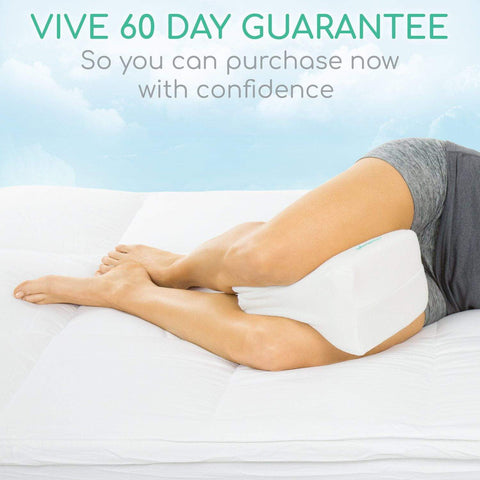 Free Shipping
Product Specialist
Lifetime Phone Support
Financing Options
Need Help?
Talk to one of our Experts!
Providing pain-relieving support throughout the night, the Xtra-Comfort knee pillow promotes proper spinal alignment by separating the legs to realign the hips. Increasing circulation in the lower body,the support pillow relieves sciatic nerve pain, lower back, hip and knee pain. Perfect for post-surgery and during pregnancy, the contoured knee pillow is constructed with a resilient memory foam for comfortably soft support. Remaining cool and dry, the pillow is protected by a breathable, zippered cover that is machine washable for added convenience.
FEATURES
Relieves Hip, Back And Sciatica Pain
Great for back and side sleepers, the Xtra-Comfort knee pillow supports spinal alignment by correctly positioning the hips to relieve sciatic nerve pain, restless leg syndrome and pain in the lower back, hips and knees. Providing comfortable support during pregnancy, the contoured cushion also reduces painful pressure in the hips and back following injury or surgery.
Side Sleeper Contoured Support
Relieve painful pressure on the knees by placing the ergonomic pillow between the calves, thighs, or legs. Curved hourglass design provides comfortable support for proper spinal alignment.
Retaining its shape night after night, the contoured knee pillow is made with a resilient memory foam to prevent flattening. Comfortably conforms to the body to provide optimal support for the back, hips and legs.
Breathable Washable Cover
Staying cool and comfortable, the contoured knee pillow features a soft, breathable cover. Easily removed, the zippered cover is machine washable for added convenience.
60 day unconditional guarantee so you can purchase now with confidence.
GENERAL SPECIFICATIONS
What's Included:

Knee pillow
60 day guarantee
Uses:
Relieves lower back pain, knee and hip pain
Supports proper spinal alignment

Dimensions: 9.5" x 8" x 6.5"
Materials:

100% polyester cover (removable)

Soft and comfortable
breathable

100% memory foam

contours to any shape and position
returns to original shape'

Care Instructions:

Remove zippered cover and machine wash in cold water with like colors
Tumble dry on low heat setting
Spot clean foam with a damp cloth and mild detergent

Instructions:

Use in between thighs to raise leg and align hips
Use in between calfs to prevent knees from touching
PRODUCT SPECIFICATIONS
Unisex
Standard knee pillow, opens hips to align spine and legs
Curved hour glass design for knees, thighs, calf use
For side sleepers
Lightweight and portable
Plastic zipper

tucks away far from skin contact

Uses:

Reduces lower back pain
Reduces leg pain (Sciatic nerve pain)
Knee pain relief
Hip relief
improves posture
as maternity pillow
post-injury or post surgical
FAQs
Does this also support your hips while sleeping?
Yes! The knee pillow opens the hips, aligning them in the proper position to relieve pain and pressure.
What is the pillow cover made of?
The removable cover is made with a soft, breathable polyester material.
Is the cover breathable to keep cool in the night?
Yes, the cover is breathable to stay comfortable throughout the night.
Is the pillow latex-free?
Yes! The knee pillow is latex-free.
Will this keep my hips from rolling forward?
Yes! The knee cushion maintains alignment in the hips to relieve pain and pressure.
Does it stay in place all night?
Yes! The knee cushioned hourglass design holds the pillow in place all night long.
Is the zipper hidden so it won't poke you in the night?
Yes! The zipper is tucked away so it will not come in contact with your skin.
The removable cover is machine washable in cold water with a mild detergent. Tumble dry on a low heat setting before replacing on the cushion. The foam cushion should be spot cleaned as necessary.
Will the cushion be comfortable for a pregnant woman?
Yes! The cushion will provide comfortable support throughout the pregnancy.
Can I use it while I travel?
Yes, the knee cushion is lightweight and easily portable.
UPC:
818323021158
Product Number:
CSH1042WHT
Shipping Weight:
8oz