Freedom Staff CHA-720 Driving Assist Device
View product questions & answers
Freedom Staff CHA-720 Driving Assist Device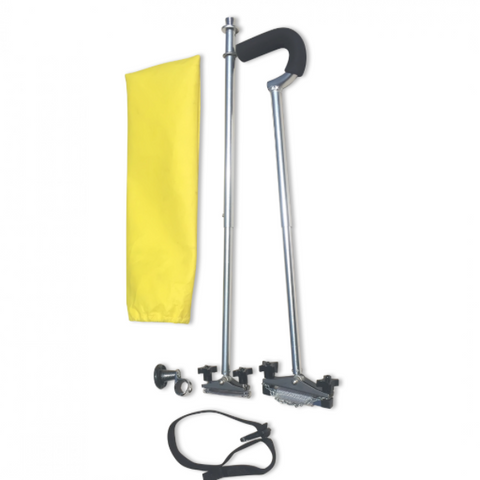 Free Shipping
Product Specialist
Lifetime Phone Support
Financing Options
Need Help?
Talk to one of our Experts!
Freedom Staff Driving Mobility Kit instantly transforms any vehicle into a vehicle that can be driven with just two hands!  The Freedom Staff is a complete system developed to help anyone with physical challenges drive safely. It has been designed with all around freedom in mind.
With the Freedom Staff any driver can be free from:
Expensive permanent installation
Being limited to just one vehicle
Hard to adapt driving techniques
Messy installation for portable units
With the use of hand controls and other adaptive driving aids, many people can take on driving for themselves once more. With the Freedom Staff you can enjoy these liberating features:
Portability to the max: it can easily go into its small carry bag
Adaptability: it's compatible with any automatic transmission vehicle
Quick and Easy Installation: no tools required
Safety: adjustable for driving comfort
Affordability: priced for accessibility
Why We Like It
The Freedom Staff can literally travel with you, from vehicle to vehicle. It can be quickly installed in any automobile with an automatic transmission, no tools necessary. It can even be packed and stowed when not needed. With low-effort steering, accurate and dependable acceleration and braking, you can now take back your independence. Go beyond your limits. Adapt. And get on the road to freedom!
What Makes it Different
The Freedom Staff Is the only Portable Handicap Hand Control product that also comes with a steering knob.  This is a thumb controlled unit.  Built with aircraft grade aluminum, stainless steel hardware, and convenient carry bag, your freedom staff will be your good friend for life. Installing the portable Freedom Staff into your vehicle, or any vehicle for that matter, is a straightforward operation. It does not require tools or modifications to the vehicle. With practice, you can do it in 2 minutes tops. 

Includes: 
Thumb control handle assembly
Brake leg assembly
Throttle leg assembly
Brake clamp assembly
Throttle clamp assembly
Support strap - adjustable
Storage bag
Four attachment knobs
Spinner knob