View product questions & answers
DDS OA Pro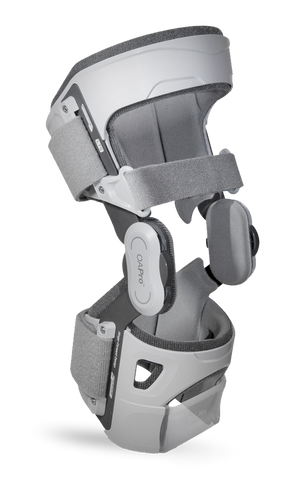 Free Shipping
Product Specialist
Lifetime Phone Support
Financing Options
Need Help?
Talk to one of our Experts!
 The revolutionary treatment for Osteoarthritic knee pain.
DDS introduces its 3rd generation OA Knee Brace with its innovative LTS Hinge that will allow bi-compartmental unloading of the knee joint. It's slimmer, lighter and our most effective OA Knee Brace to date.

1.DURALUMIN ALLOY & DURABLE PLASTIC FRAME

The product's frame is made of duralumin alloy and high grade plastic, which is lightweight and durable.
2.TRIANGULAR SHAPED LTS HINGE

The Triangular Shaped LTS Hinge acts as a lever to displace heavy body weight away from the affected knee. It is activated whenever the leg transitions from bent to extended positions.
3.
ANGLE LOCK SYSTEM
For a patient who has undergone surgery or needs rehabilitation, and requires restricted movement of the leg, the OA PRO's Angle Lock System can be initiated to accommodate such needs.


Designed to relieve the condition with no cure.
The DDS OA PRO is the perfect solution for moderate to severe osteoarthritis that requires load reduction to the affected medial and lateral compartments of the knee. It incorporates a uniquely designed triangular shaped hinge to provide decompression to unload two compartments in the knee joint, whereas standard braces only unload one.
DDS Introduces its 3rd generation OA Knee Brace. It's slimmer, lighter and most effective compared to its predecessors. Its uniquely designed triangular LTS Hinge will help treat moderate to severe osteoarthritis by reducing the load on both the medial and lateral compartments in the knee joint, whereas standard braces only unload one. The innovative Anti-Migration Silicone Guard is also the first of its kind which prevents the brace from slipping.
Accepted by Medicare and most private health insurances
Unloads both Medial & Lateral Compartments
Universal fit for left or right knee
Slim & Lightweight
Innovative Anti-Migration Silicone Guard
Drug free OA knee pain relief
The posterior straps anchors on top of the calf and to the bottom of the hamstring. As the leg extends, the LTS Hinge gently pulls in the opposite directions, decompresses, and unloads the knee joint. This reduction of pressure supports and stabilizes the knee; eases pain and increases mobility.