View product questions & answers
Assist A Tray By Stander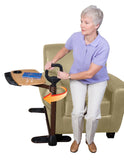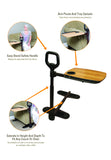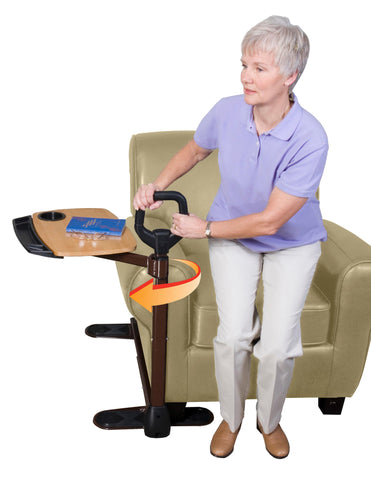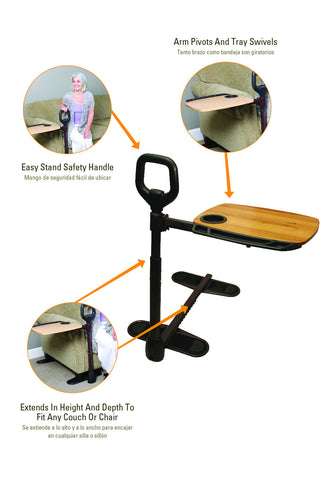 Free Shipping
Product Specialist
Lifetime Phone Support
Financing Options
Need Help?
Talk to one of our Experts!
Nothing is worse than sitting down only to be unable to get back on your feet. With the all new Assist-A-Tray, you can safely return to your feet without the risk of injuring yourself. Whether you're sitting down to a nice meal or just need a place to set your drink while you relax in front of the television, you know you can trust in the reliability of this new couch table tray. It can go anywhere you need it to be. The choice is completely up to you.
 Why Assist-A-Tray Is Different
This Stander Assist a tray is super easy to use. With a built in safety handle, this tray is everything you need to retain your independence and improve your quality of living. By using the handle you'll see an improvement in balance which allows you to be safer at home. The top of the tray features a swivel build so you don't have to fight with snapping or unsnapping the bars on the bottom (like traditional TV trays).
Why We Like It
So convenient to use, this couch table tray is ideal for individuals who are struggling with balance, have had recent back surgery, or for those who suffer from any level of back pain. The tray itself has the ability to swivel 360 degrees so you won't get struck with the tray as you rise to your feet after use.
What to Know Before Ordering
There are absolutely no tools required with this Assist-A-Tray. You will be able to quickly and easily install this medical device right away in the convenience of your own home.
Protective rubber pads were implemented in the ergonomically designed device so it won't cause damage to your floor. Plus the pads allow for additional security. The Stander Assist tray will not slide away from you as you rise from a sitting position
Assist-A-Tray Features;
Ergonomic Safety Handle Provides Balance and Support for Sitting or Standing Motion
Fully Adjustable Height and Length Tray Height from 26" to 32", Handle Height from 34" to 40", Base Length from 20" to 36"
Swivel Tray Multi-Use Tray Pivots out of the way when not in use
Super Grip Rubber Pads Ensure Stability and protect your floor from damage
Quick and Easy Assembly No tools required
Assist A Tray Assembly
All of Stander products come with our "Unconditional" Lifetime Warranty! If you are unsatisfied for ANY reason, you can send it back for a full refund;