Comfortland 8" Universal Wrist & Thumb Support
View product questions & answers
Comfortland 8" Universal Wrist & Thumb Support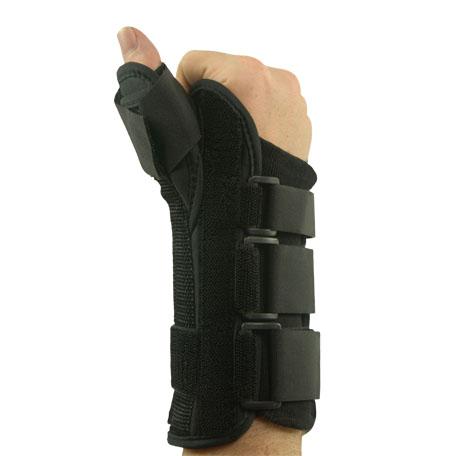 Free Shipping
Product Specialist
Lifetime Phone Support
Financing Options
Need Help?
Talk to one of our Experts!
Ideal in treating De Quervain's Syndrome, Gamekeeper's Thumb, and carpometacarpal instabilities, the premium wrist and thumb splints feature the same construction and ease-of-use as the wrist extension splints, with the addition of an adjustable thumb stay, perfect for immobilizing the thumb for during the healing process. The malleable palmar stay stops just short of the distal palmar, allowing full range of motion for the fingers. One size fits all.
Product Features 
Lightweight Design Weighing under4oz.,the Endeavor wrist splint provides incredible support while remaining lightweight and low-profile, helping patients get back to normal activity quickly.
Easy to Use/Adjust The Endeavor wrist splint features a hook strap and D-ring closure system, allowing for easy application and adjustment without requiring tools or further assistance.
Breathable Construction Made of breathable soft goods, the Endeavor wrist splint promotes airflow to the wrist and hand, speeding up the healing process as well as to help keep patients cool and dry,even after long periods of use.