View product questions & answers
Ice Therapy Machine By Vive Health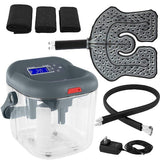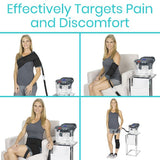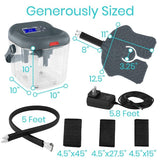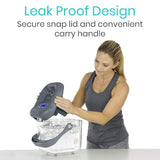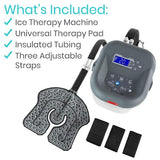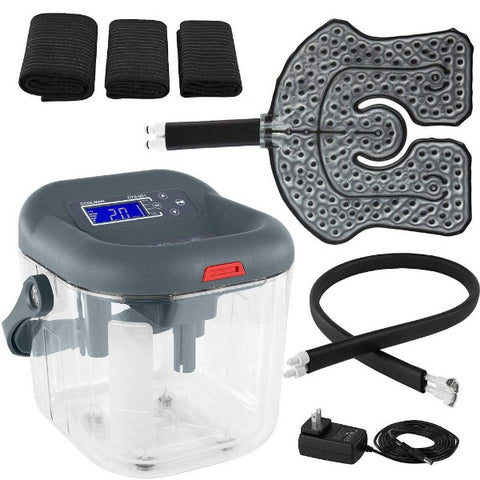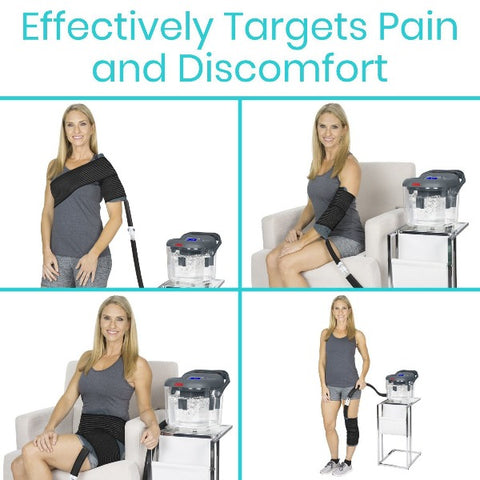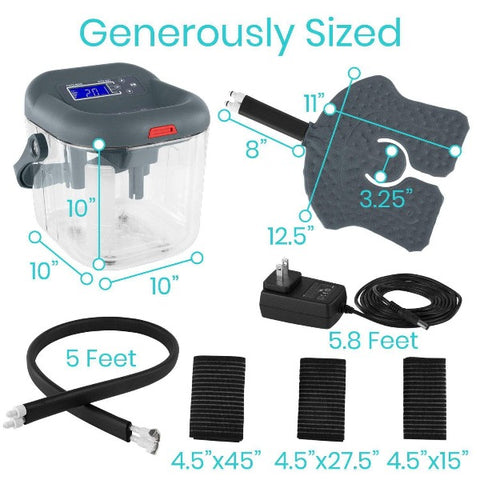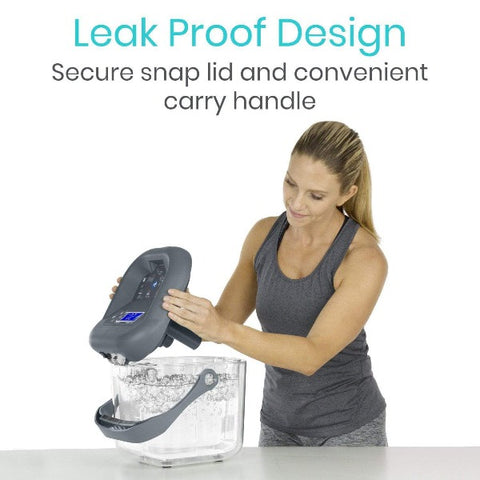 Free Shipping
Product Specialist
Lifetime Phone Support
Financing Options
Need Help?
Talk to one of our Experts!
Overview
This Ice Therapy Machine by Vive Health is designed to provide immediate relief from soreness, pain and discomfort, the ice therapy machine includes a universal therapy pad to effectively target the ankle, knee, hip, shoulder and arm pain. Alleviates swelling, pain and inflammation following surgery or injury, the quiet ice therapy system is also useful for relieving joint pain due to arthritis or overuse.
Why we Like This Ice Therapy Machine By Vive Health 
When it comes to ice therapy units there a multiple different models by numerous manufacturers but this model by Vive Health stands out in its portability and performance.  Weighing just over 9 lbs and with dimensions of 10"x 10" this ice therapy unit can easily travel with you anywhere you. One of our favorite features is the customizable setting that allows you to adjust flow rate and timing of each therapy session. 

What's Included
When you purchase this Vive Health cold therapy unit you will receive a versatile therapy pad, cold therapy unit, power cord, hose, and 3 adjustable straps small, medium, and large. This item also comes with a one year warranty and CSA Medical Supply.com 30 day money back guarantee. 
Features 
Target cold therapy
Comes with versatile therapy pad
Three adjustable straps
Quiet and compact unit holds 6L of water.
Carry Handle for easy portability
Insulated connection tube.
Customizable settings 
How To Use
Specifications 

Uses:
Relieves post-surgery swelling and inflammation
Reduces post-workout stiffness and pain
Dimensions:
Unit Base: 10" x 10" x 10"
Universal therapy pad: at widest point 12"; at longest point 11"
Connector hose: 5'
Small band: 4.5" x 15"
Medium band: 4.5" x 27.5"
Large band: 4.5" x 45"
Power cord: 5.8'
Materials:
Durable composite
Insulated foam tubing
PVC
Power:
Input: 110-240V AC
Output:12.0V-1.0A (1000mA)
50/60 Hz
Frequently Asked Questions  
Is the Machine noisy?
No, the unit produces minimal noise during operation, however, it does chime to alert users when the water temperature is greater than 10 degrees celsius and chimes at the end of the selected session.
Do I need separate pads for different areas of the body?
The cold therapy machine includes a unique therapy pad to conform to any area of the body including the shoulder, arm, back, hip, thigh, knee, calf and ankle.
Can I control the flow rate?
Yes! At the start of each session, use the up and down arrows to select one of five rates of flow for a personalized treatment session.
Can I use this on my shoulder?
Yes! The cold therapy pad is uniquely designed to contour to the body, secured with the included straps for targeted relief.
Do I need to use ice?
Yes, filling the unit with ice to the designated fill line ensures the water is cooled for effective therapy.
How much ice do I need to put in the bucket?
The cold therapy base has a designated fill line for both ice and water. The base holds a total of six liters. If your device begins beeping, your water is too warm and you should add ice to the tank.
What is the temperature of the water in the pad?
The exact temperature of the water as it flows through the therapy pad will depend on the amount of ice in the unit.
How long is each cycle?
Each treatment session can be set in five-minute increments up to 30 minutes.
Will this help after a knee replacement?
Yes, the cold therapy pad easily contours to the knee for targeted relief of swelling, inflammation and pain following surgery.
Is this portable?
Yes, the unit can be used in various locations, however, the unit must be connected to an outlet and rest on a flat surface.


Comes with CSA Medical Supply.com no questions 30 day money back guarantee and 1 year warranty from manufacturer Vive Health